ProMax Privacy Notices
The Financial Services Modernization Act (formally known as the GLB), authorizes the Federal Trade Commission (FTC) to write rules regarding consumer privacy, safeguarding consumer information, record retention and fraud detection. Dealers are required to explain their information sharing practices to their customers. In turn, their customers have the right to limit some – but not all – sharing of their information.

When utilizing ProMax, you have unlimited access to our clear and professional looking Privacy Notice. When personal information is collected, the software automatically prompts the user to print a notice. In accordance with the GLB, the ProMax Privacy Notice is customizable to your dealership to reflect your information sharing practices, along with the consumers ability to limit this sharing.

Given the emphasis both Federal and State Regulators' are placing on privacy related issues and the current regulatory environment, you can't afford to be unprotected against customers falling through the cracks. ProMax offers a seamless and streamlined solution to the Privacy and Safeguards Rule requirements.
How the ProMax Privacy Notice process works
Automatic Prompt to Print Notice!
Users are automatically prompted to print a Privacy Notice. When printed, the transaction is recorded in the Customer Workscreen, date and time stamped for reference.
If your using a Digital Signature Pad in ProMax to collect customer signatures, a digital image of the signed document is accessible from the Workscreen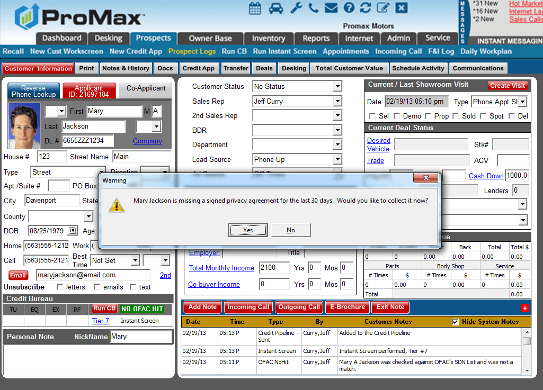 Professional Looking Privacy Notice!
In compliance with the GLB, the ProMax Privacy Notice is clear, conspicuous, and reflects accurate statements of any dealer's privacy practices.
Each reason for sharing customer information is customizable to reflect your information sharing history. Who information is shared with and whether the consumer can limit the sharing is individually configurable.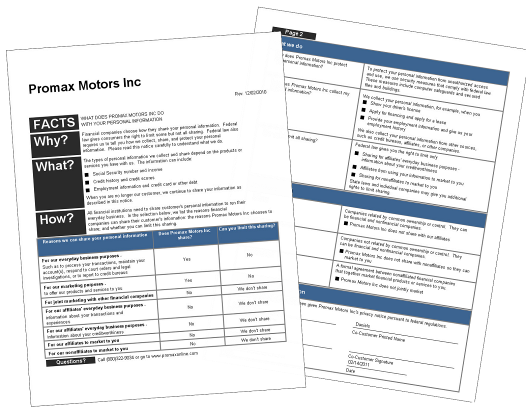 Online Privacy Notice
Another way to stay compliant and save paperwork at the same time is the Online Privacy Notice.  All dealers with the ProMax compliance package receive a free website that contains your customized privacy policy.  The URL for this site is automatically added to the bottom of other forms you are already giving to most customers such as the Adverse Action letter, the Risk-Based Pricing notice, and the Instant Screen Certificate.  Adding this URL fulfills your responsibility to  share your privacy policy with customers.
The ProMax Total Compliance Solution takes care of all your automotive compliance needs.
Red Flags Rules
Risk Based Pricing
Fair Credit Reporting Act
Safeguard Rules
Can Spam Act
Address Discrepancy Rules
Privacy Notice Requirements
Do Not Call Rules
Record Retention
OFAC Screening
Adverse Action Notices
Truth in Lending
Record Disposal
Digital Signatures