Credit Bureaus
ProMax is one of the only resellers of all 3 automotive credit bureaus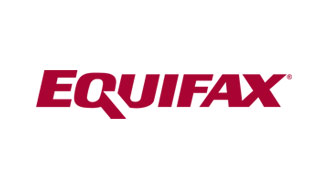 ---
Pulling credit and staying compliant is seamlessly woven into your sales process. It's easy to do, simple to manage and review. No one has a more complete and automated compliance solution.
Log all your ups with either a swipe of a drivers license or a mobile scan
Immediately the customer has a OFAC check done which is a free service.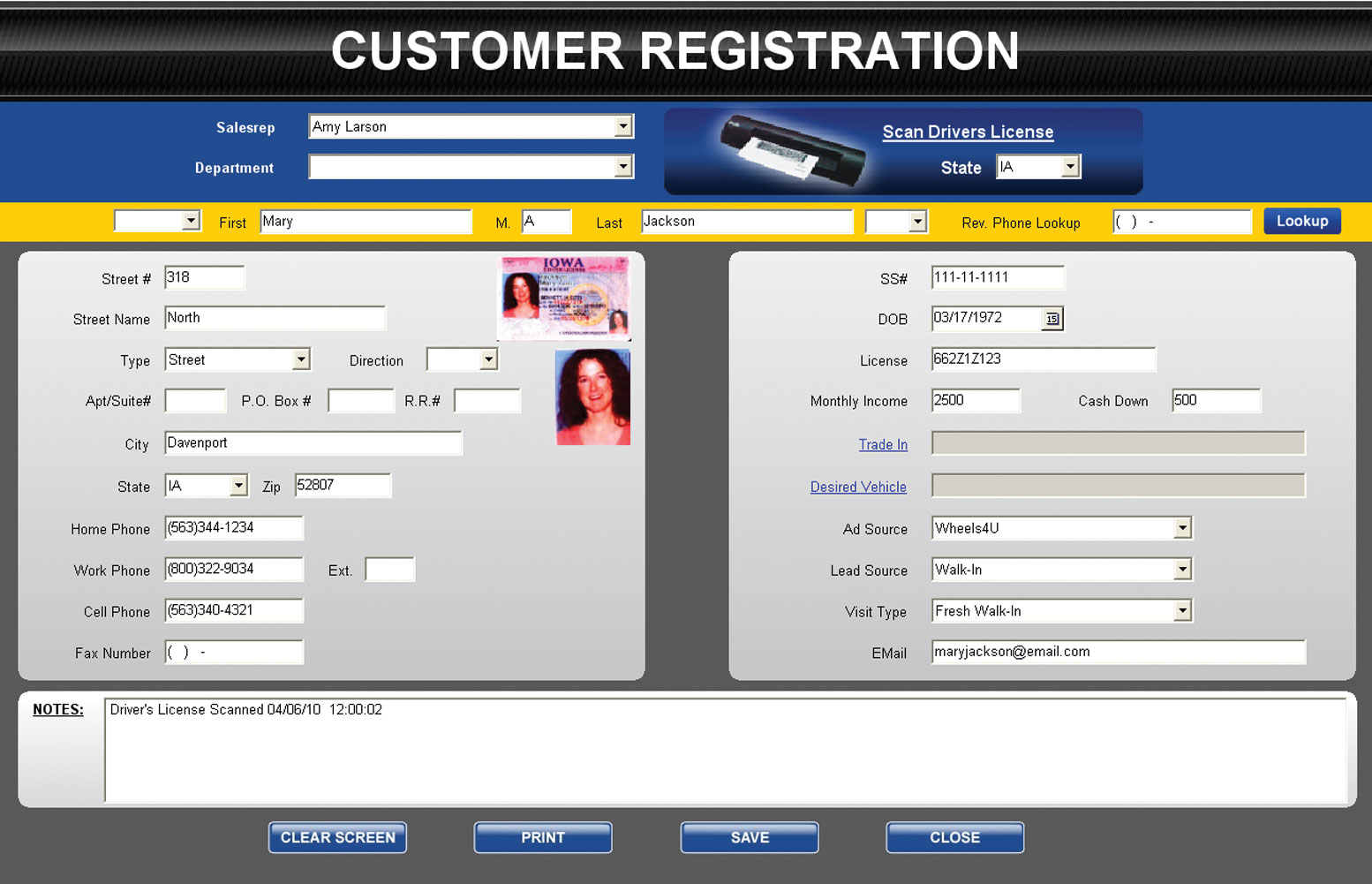 Privacy Notice is done next, along with any other forms utilized in your sales process
Customer Information Worksheet
Test Drive Agreement
Custom forms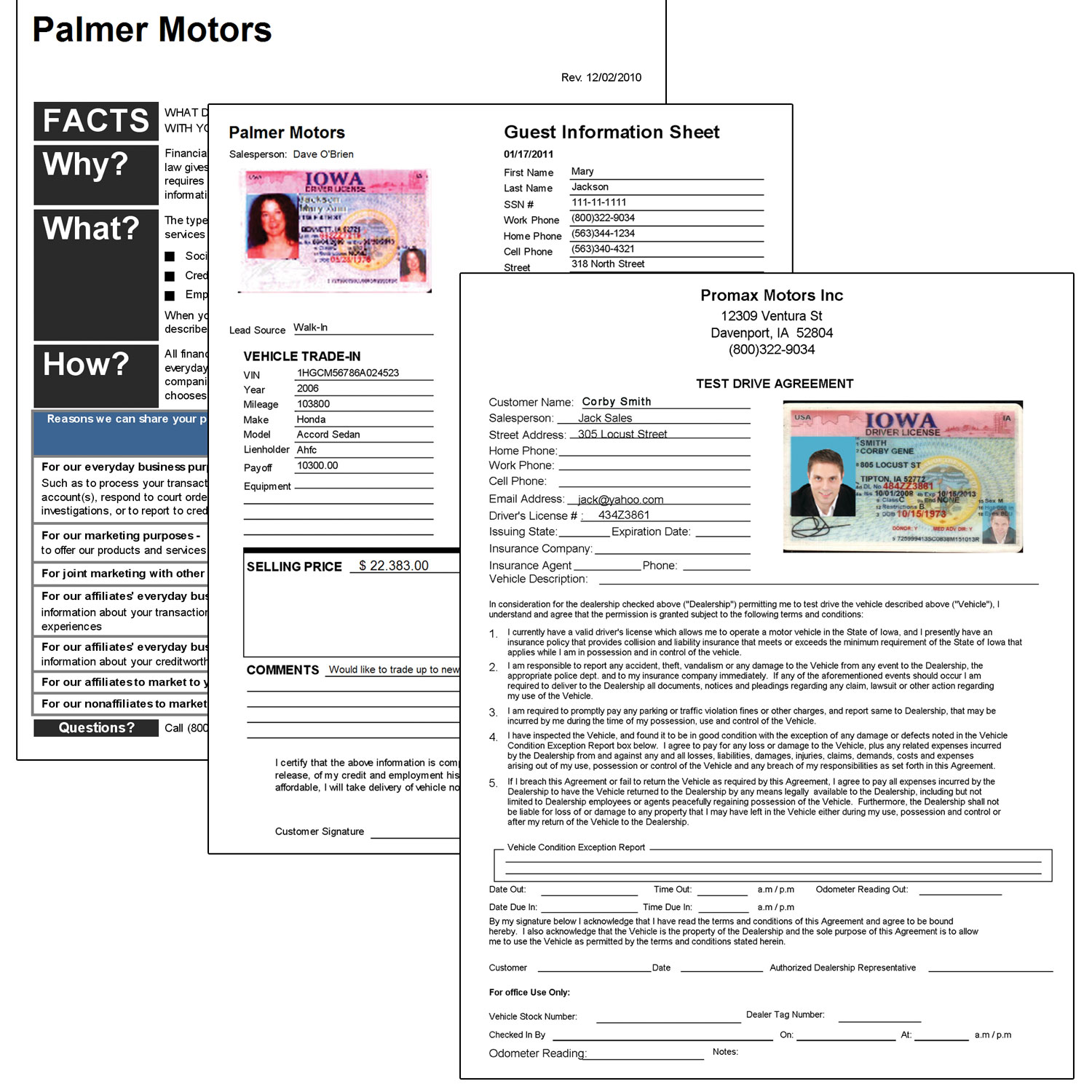 As customers are logged your managers can take advantage of our unique , industry leading soft-pull technology Instant Screen™.
Instant Screen allow you to qualify correctly and quickly by empowering your managers with valuable information on the consumer before they pick out a car.
Exact credit score
Current payment & payoff
Current Interest Rate
Credit Bureaus with benefits
If the red flag score is yellow, out of wallet questions are available immediately.
Pull 1, 2 or all 3 bureaus in seconds.
Push into Route One or Dealer Track.
All 3 bureaus on ONE bill.
Red Flag score immediately generated and shown automatically.
Our Risk Based Pricing Solution won't disrupt your sales process or cost you sales!
The Exception Notice is immediately generated when a credit bureau is pulled.

A great cover letter will serve as the initial follow-up and help generate extra sales.
The Exception Notice can now be printed and handed to the customer or we can mail all unsold traffic the notice for you with the great cover letter using our Fail-safe compliance solution; keeping your focus on the deal.
Our Risk Based Pricing Fail-safe option monitors and tracks the customers to keep you compliant preventing any break downs in your process.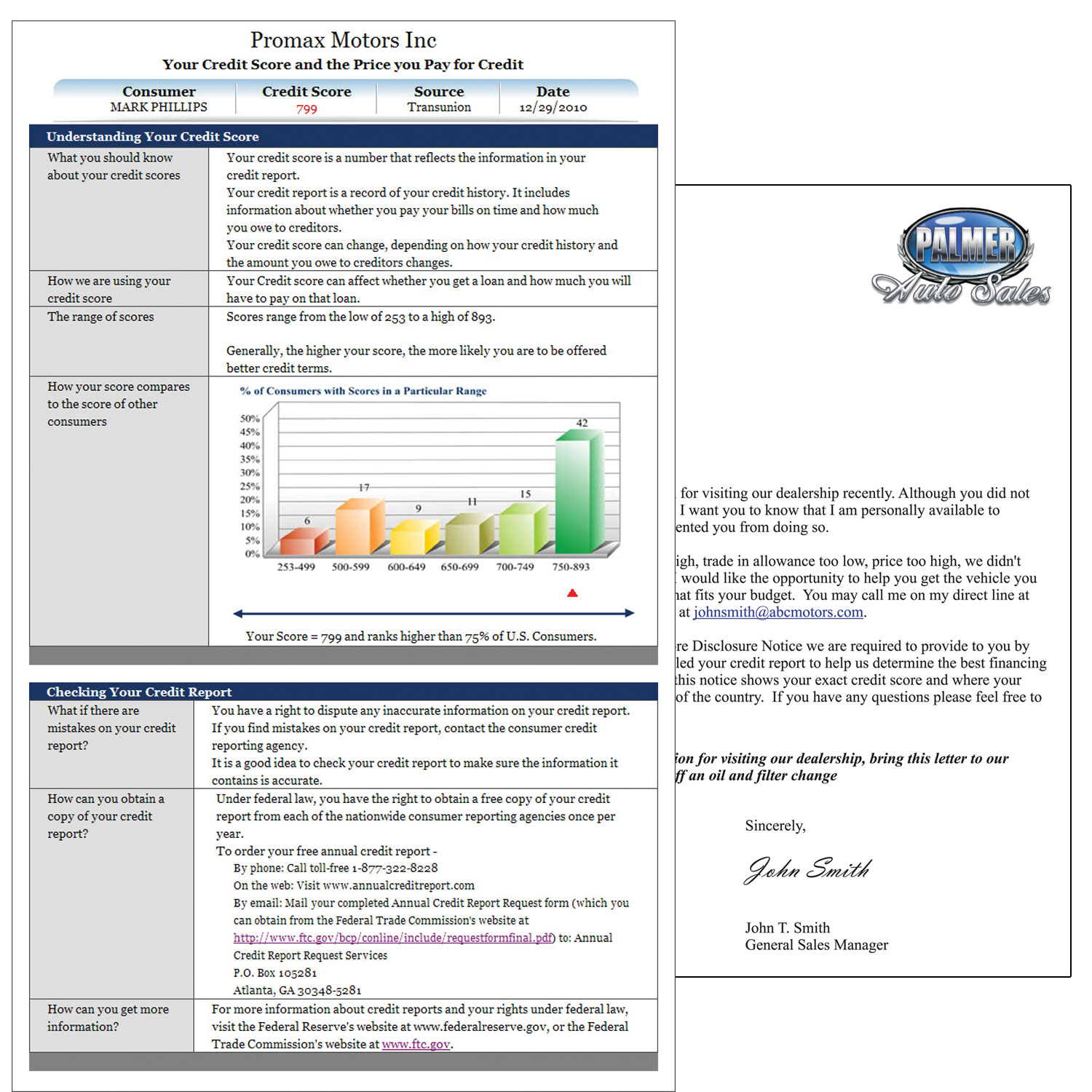 Proof of compliance is automatically documented. You're covered in case of an audit.
Everything is documented in customer notes and history.
Everything is date and time stamped to provide proof of compliance in case of an audit.
A hyperlink brings up the actual documents that were either printed, emailed or mailed.

The management Compliance Review helps ensure nobody slips through the cracks!
All delivered deals, unsold showroom traffic and Internet leads are automatically entered.
Incident Report automatically updated.
Appropriate Adverse Action Letters can be selected to be either printed and mailed by dealer or by ProMax.
Fail-safe option monitors and tracks the customers to keep you compliant.