ProMax Reports
Real time reporting - as soon as it happens, you know about it!
Over the past 20 years, many successful dealers and industry experts have contributed to the development of the reports available in ProMax.  ProMax offers a variety of useful standard reports, as well as the ability to easily create custom reports.  Our lead management, productivity, compliance, profit, and inventory reports allow you to inspect what you expect efficiently and effectively.
Quickly access your projected figures for month end.  Default Month-To-Date reporting allows you to make adjustments to finish strong.  Don't wait until the 29th to realize you have missed you goals!
Best of all, a Manager can log on from anywhere in the world to review the dealerships daily, weekly, or monthly progress and make decisions to increase sales and profits.
Lead Management Reports
Our Reports Menu has a wide variety of ILM and CRM focused reports.  Our numerous reports allow you to quickly evaluate the return-on-investment of your marketing and advertising efforts.  We allow you to not only evaluate how many cars you sold, we offer unique reports for evaluating where things went wrong.  Powerful drill-down reports allow you to quickly gather information for a productivesave-a-deal meeting.
Lead Management Reports available in ProMax:
Lead Management Report
Prospect Info Analysis Report

 

Showroom Traffic Report
Incoming Sales Call Report
BDC & Sales Management Report
Unsubscribed Customer Report
Floor Traffic Analysis Report 
Call Manager Report

 

ProLink & Website Usage Report 
Credit Pipeline Report
Traffic Analysis Report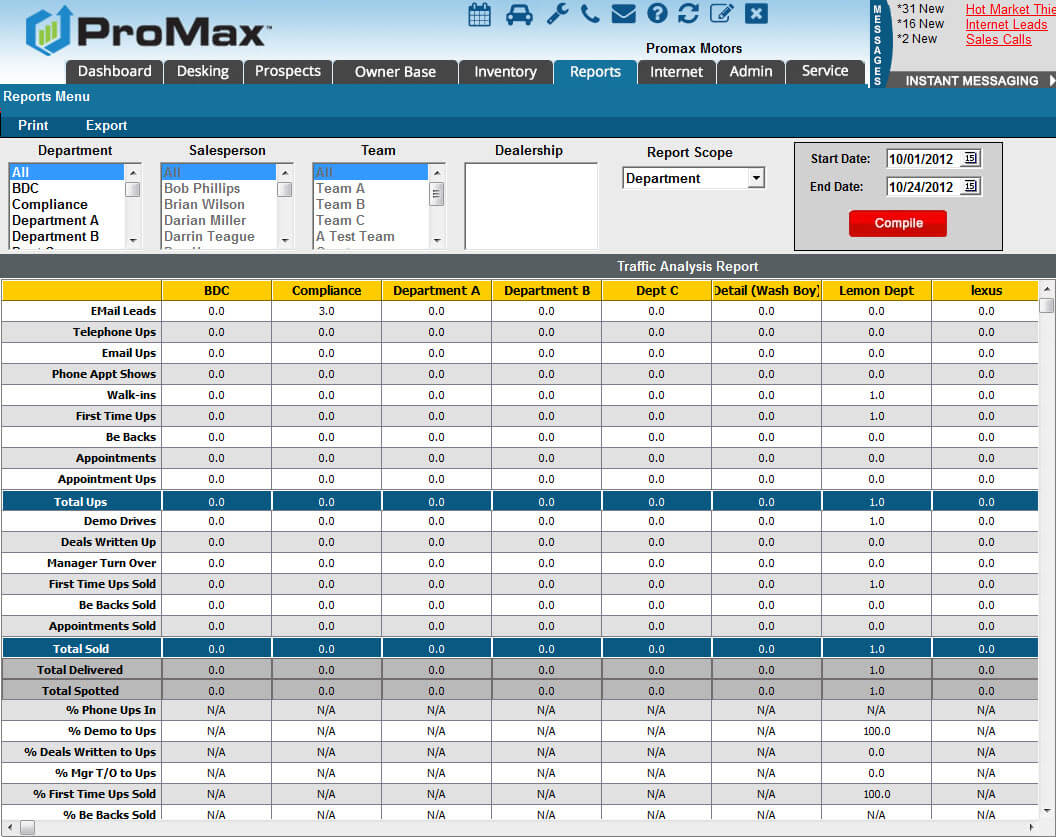 Salesperson & BDC Management Reports
You can't manage what you don't measure is an old management adage we believe in.  Our standard and custom reports take the hassle out of tracking the activities and measuring the effectiveness of your sales force.  Just by using ProMax, all sales activities are automatically recorded synced with our real-time reporting.
Salesperson & BDC Management Reports available in ProMax:
Prospect Activity Report 
BDR Appointment Breakdown
BDC Productivity Report
Salesperson Tracking Report   
Salesperson Ranking Report 
Salesperson Activity Report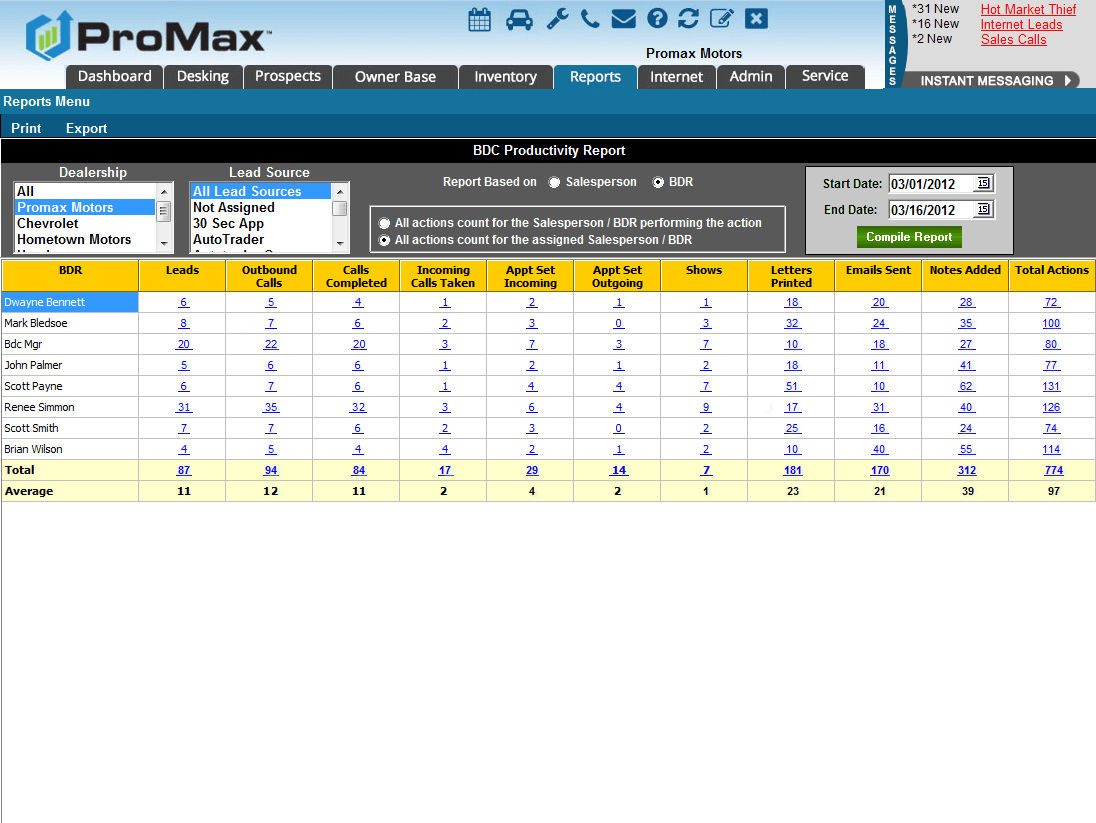 Compliance Management Reports
The ProMax Compliance Solution gives you the tools for protecting your hard earned profits against regulatory fines, lawsuits, and fraud.  We've provided very detailed reports that include at-a-glance visual warnings to ensure nothing slips through the cracks
Compliance Management Reports available in ProMax:
Compliance Review Report  
Pending Adverse Action Letters.
Risk-Based Pricing Report
Daily Manager Exit Note Review
Incident Report Summary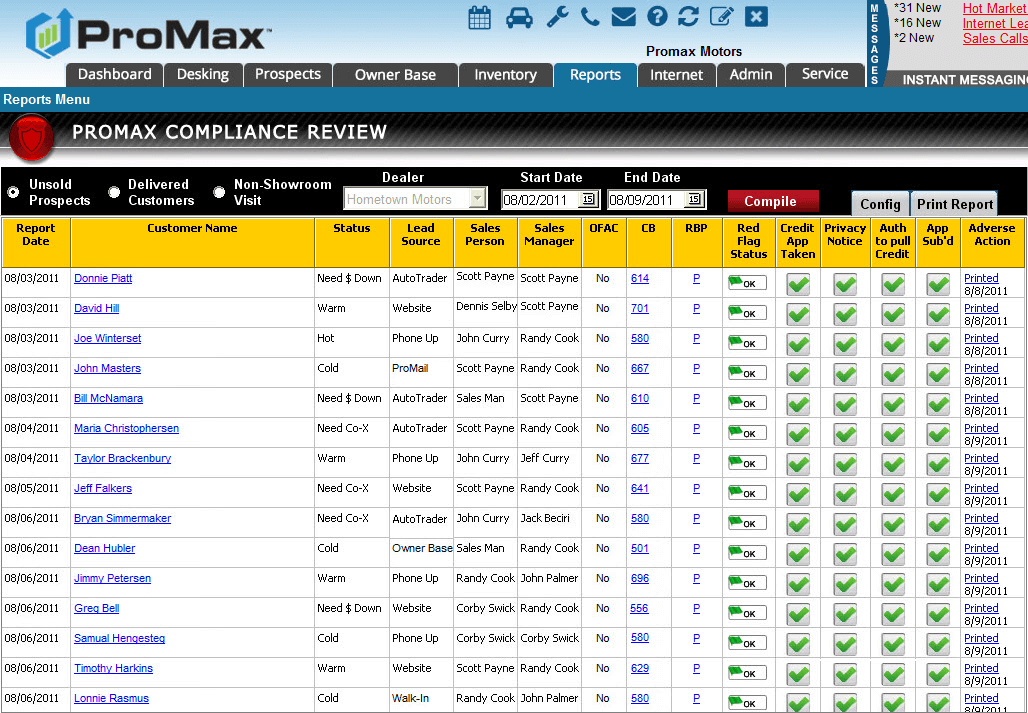 Sales & Finance Management Reports
Our award winning Desking software is accompanied with an extensive list of finance focused reports.  Nearly any metric you can think of is available in our many reports.  If we don't have a standard report you like, choose from hundreds of variables available to build your own customized reports.  Quickly identify how you did last month versus where you're heading this month.
Sales & Finance Management Reports available in ProMax:
Finance Profit Summary Report
Return on Investment Report 
Finance Focus Report 
Daily Sales Track Report
Sold Vehicle / Profit Report
Total Finance Breakdown Report
Money Due Report
F&I In/Out Report
Advertising & Sales Report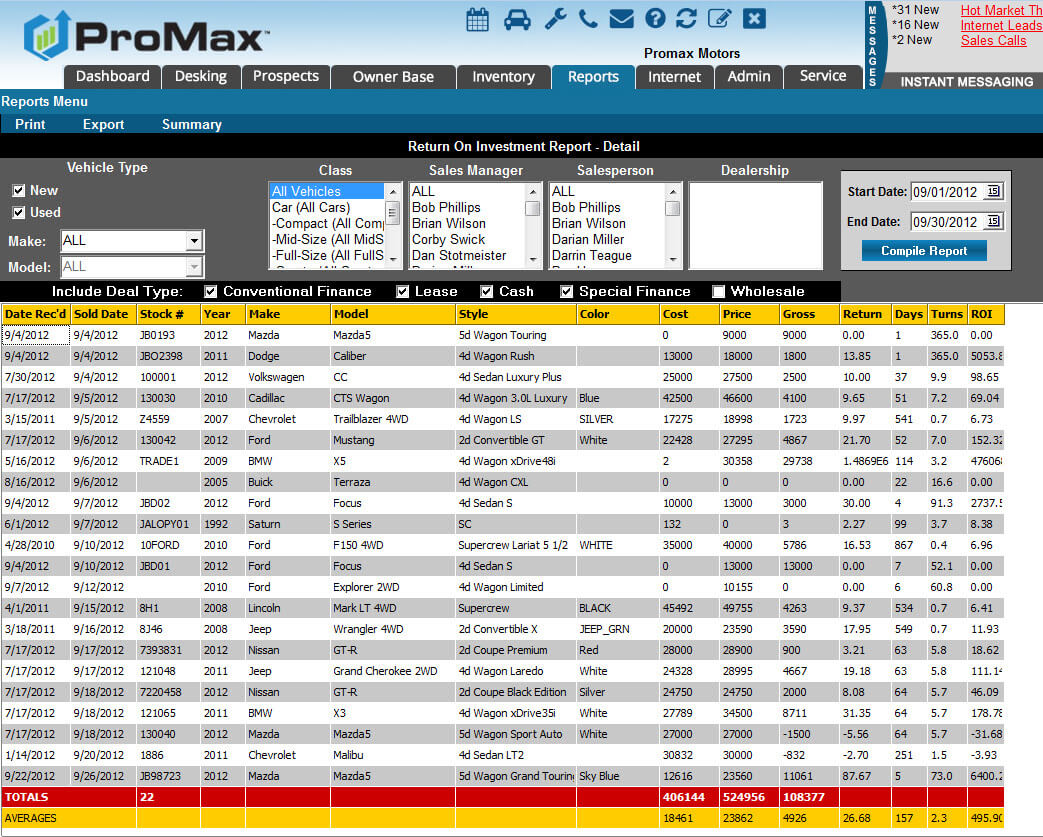 Vehicle Management Reports
ProMax has inventory reports available to suit all your inventory management needs.  Unique reports tailored for your sales staff, managers, website administrator, and your F&I department are readily available in real-time.  We also offer several interactive reports for complete control over prices, photos, comments, and which vehicles are displaying online.  Managing your entire inventory platform couldn't be easier or more effective… it can all be done directly from ProMax.Vehicle Management Reports
Salesperson & BDC Management Reports available in ProMax:
Spotted Vehicle / Stips Report
Appraisal Report 
Needed Vehicles Report
Inventory Report Builder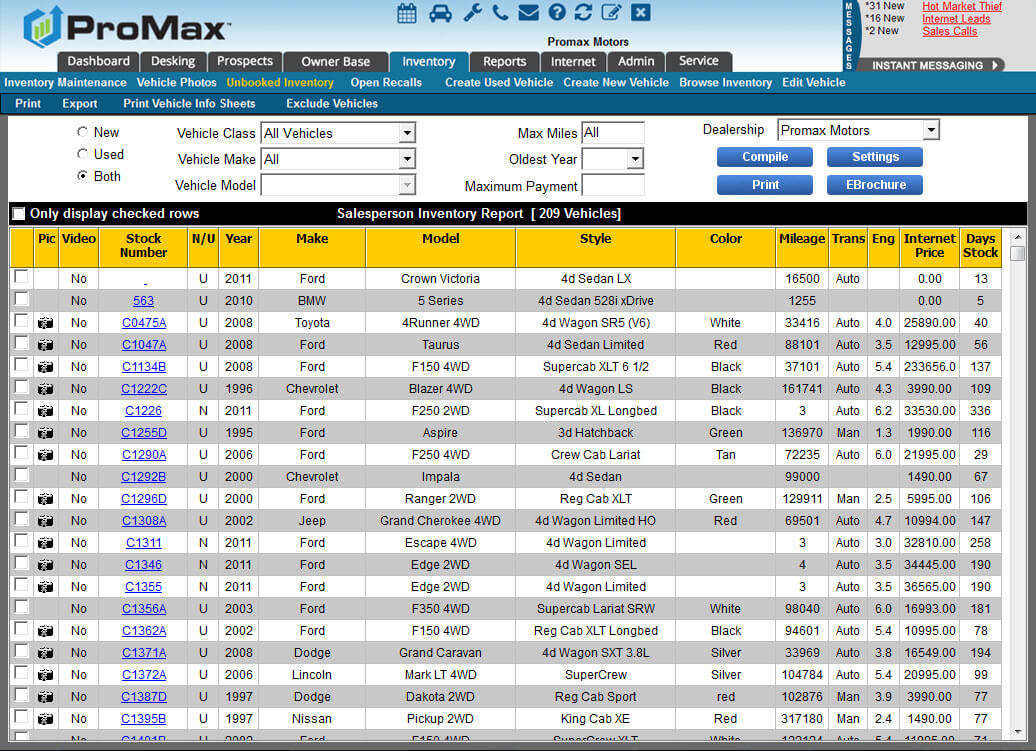 Credit Bureau Management Reports
As a direct reseller of all three major credit bureaus, ProMax is able to offer real-time reporting in a single platform.  We also give your store unique tools and reports for better evaluating your customer data.  Want to know how many sold customers had a CB score under 600?  How man 680-719 customers were submitted or approved?  With ProMax CB Management Reports, that data is just a click away.
Credit Bureau Management Reports available in ProMax:
Credit Bureau Analysis Report
Instant Screen Invoice Detail Report
CB Invoice Detail Report
Instant Screen Analysis Report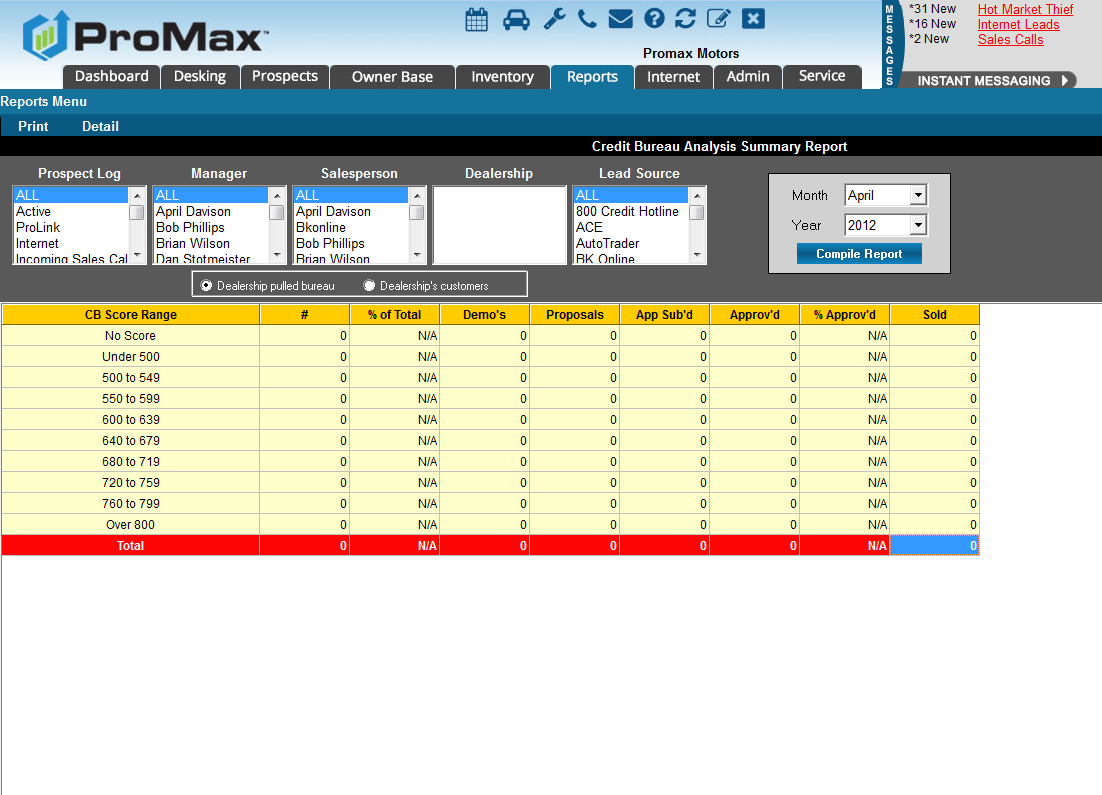 REPORT SCHEDULER
Several reports in ProMax include our exclusive Report Scheduler option.  Using this incredible feature, you are able to configure reports to automatically compile and send electronically whenever you desire.  Our robust scheduler allows you to set the time, frequency, date range, format, and any recipient you desire by either email or ftp.  The information you need to effectively manage your dealership will always be on time, when you need it, automatically.
Current Reports with the scheduler option:
Advertising & Sales Report
Prospect Activity Report
Salesperson Tracking Report
Sold Vehicle / Profit Report
Dashboard - Sales Ranking Report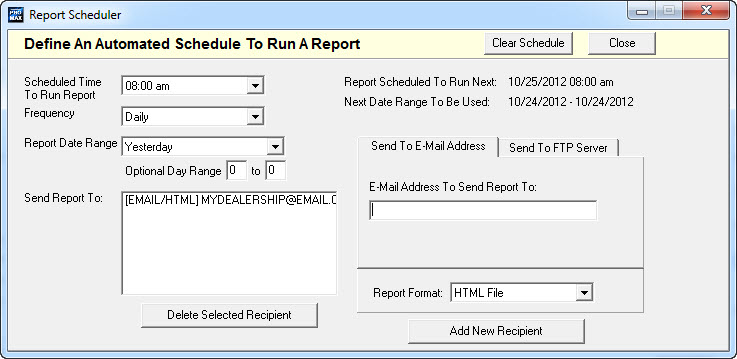 MANAGER DASHBOARD
To compliment our extensive Reports Menu, we've highlighted 8 reports and placed them on our Manager Dashboard.  The Dashboard gives you one place to find out what's happening at your Dealership in just 10 minutes a day.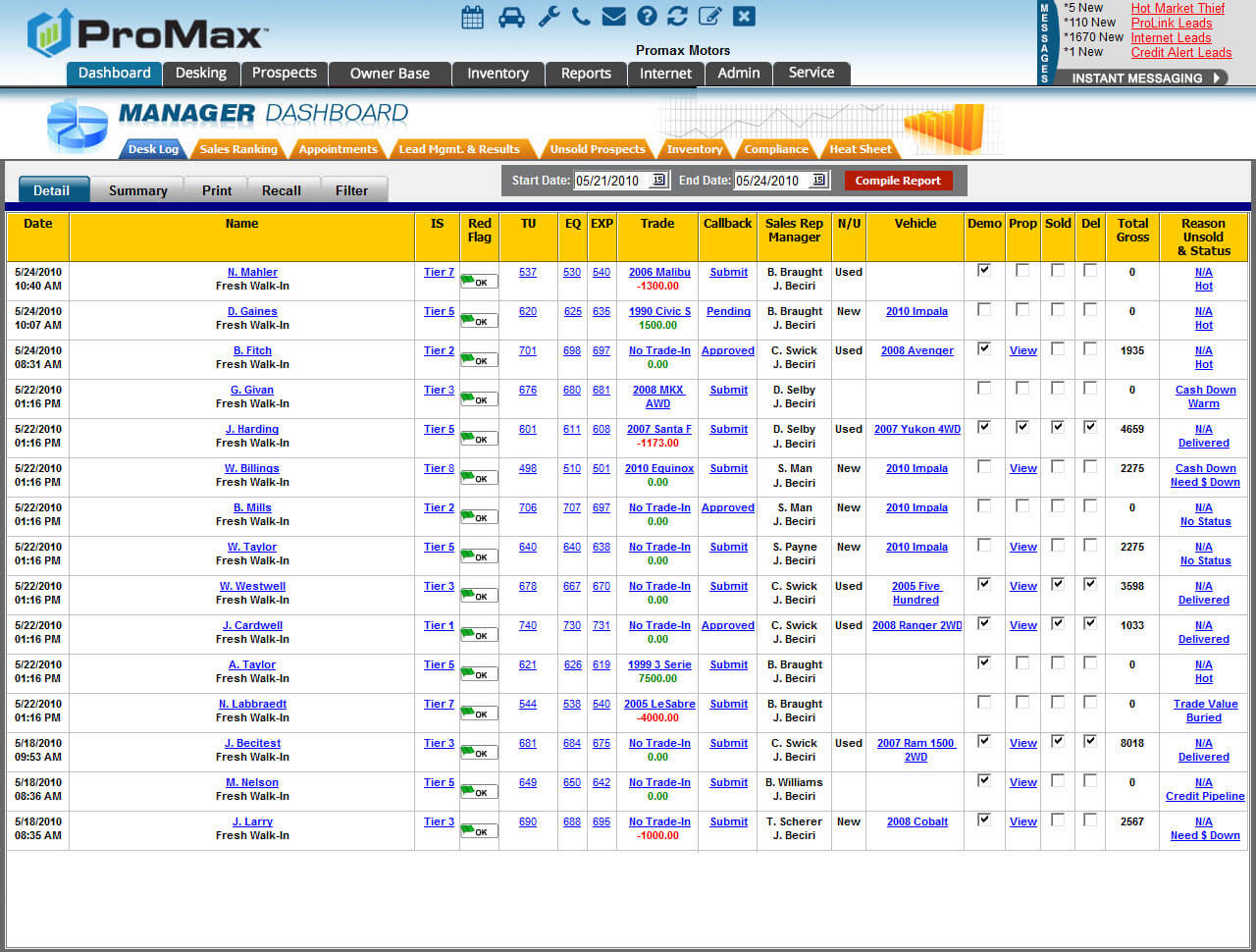 PURE LEAD REPORT
View details to all your leads as they came into the system, before any changes to Lead Source may have been made or duplicate leads have been merged, and get counts for exactly the time period you need with the Summary: